Sandy Beaches and Stunning Lakeviews
Island Cove at Sage Lake
About Us
Island Cove is a private island with a land bridge on all sports Sage Lake Hale, MI
This property is located in Hale MI on all sports Sage Lake. This property is surrounded by water with lake views from every window in the house. With 4 bedrooms it offers enough sleeping space for 12+ people. This property can also be used to house guests from our other property at nearby Zeron's Island also on Sage Lake. It has plenty of parking, nice outdoor patio and BBQ area, as well as a lakeside fire pit area. We have a 2 person paddle pontoon for renter use as well as a pontoon boat for rent. With 4 queen size beds upstairs (3 in the big room upstairs, & 2 separate sleeping areas upstairs), 1 sleeper sofa, and one king size bed in the master bedroom on the main level, there is plenty of room to sleep. There is a nice size living room on the main floor with a bar top overlooking into the kitchen as well as another living room area upstairs that has the sleeper sofa that would be perfect for the kids to play in.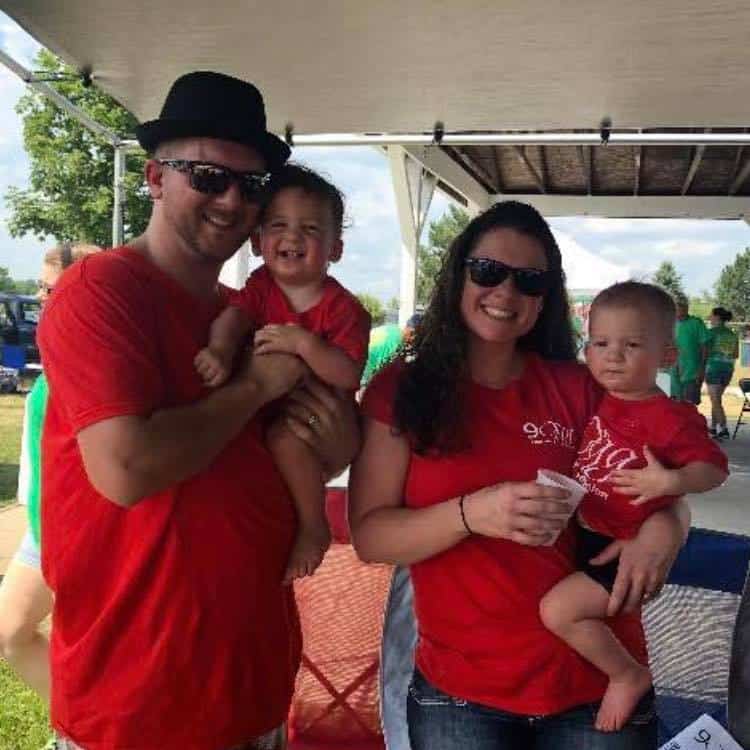 Discover
The Lake House
This private island with land bridge has 4 bedrooms with 4 queen beds & 1 King.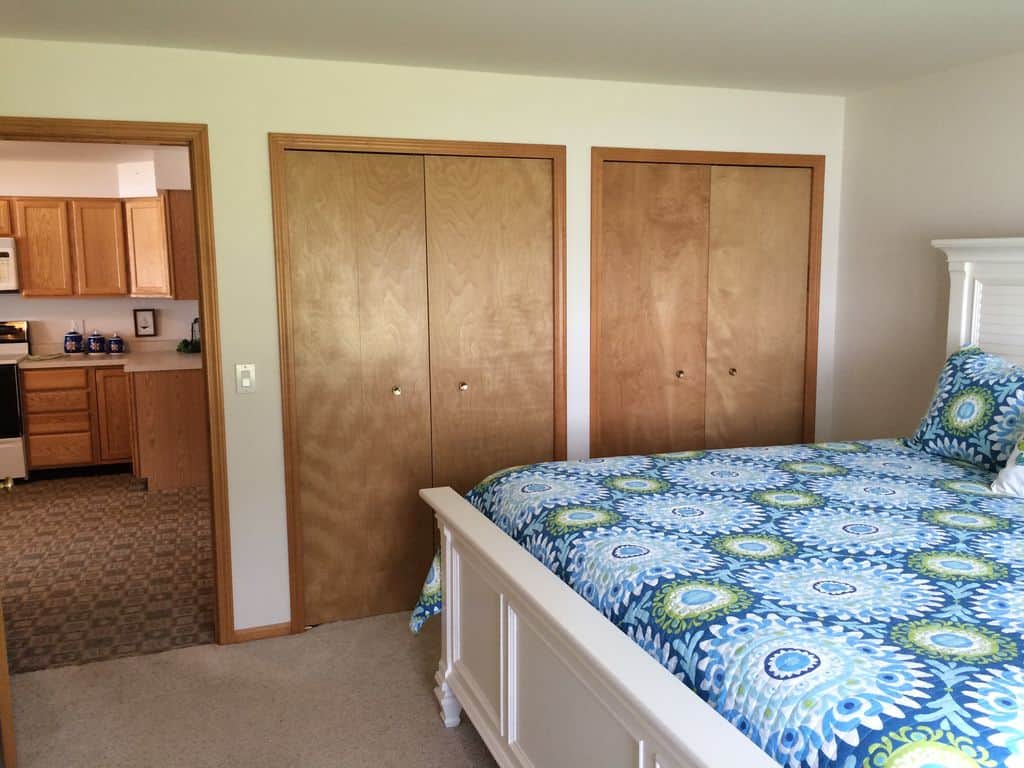 The Rooms
The Master Bedroom
King Bed & On the Main Floor
Upstairs Bedroom 1
Lake view from upstairs living room with HD TV, 2 sofa sleepers & regular sofa
Lake View
Two Futons / Sofa Beds
Flat Screen Smart TV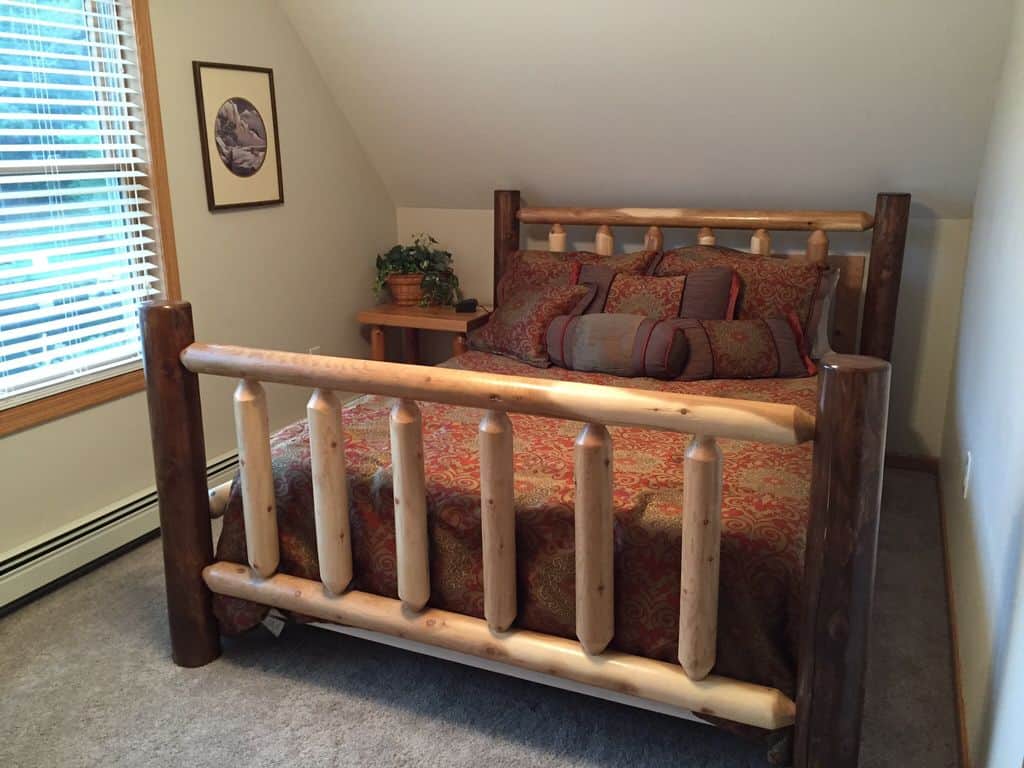 Upstairs Log Bedroom 2
Log Queen bed upstairs directly next to the full bathroom with tub/shower.
Upstairs Bedroom 3
Bedroom above garage with great lake views & 3 new queen size beds and a sofa bed.
Great Lake Views
3 Queen Beds
Sofa Bed
Air Conditioning
There is a window AC unit on the main level with a stationary AC unit upstairs.
Towels Provided
Bath towels are provided. However, NO beach towels are provided. If you plan on going boating or swimming you will need to bring your own beach towels as our linens are not to go outside.
Free Parking
There is plenty of parking in a designated area marked by signs in front of the house & another property within walking distance for extra parking. Boat parking permitted at our dock with permission.
Bedroom Comforts
All linens are provided. Pillows & cases, sheets, blankets/comforters, and dish, bath, & hand towels.
Living Room
There is 2 sofas in the main floor living room as well as 40″ flat screen smart TV. The second level living room has 3 sofas, two of them being sofa sleepers and a 40″ flat screen smart TV.
The Kitchen has a beautiful lake view and is attached to the living room with a bar top separating. There are 3 bar stools.
Refrigerator
Normal size Refrigerator/Freezer.
Dishes & Utensils
All dishes and cooking utensils are provided as well as pots and pans.
Television
The is 2 Samsung 40″ flat screen smart TV's. One is located on the main level in the living room area and the other is in the living room area on the second floor.
Stereo
There are 2 Mobile Bluetooth Speakers available for renter use.
Games
We have corn hole, ladder ball, and lawn darts available to use at no cost.
Lawn / Garden
Has lawn completely surrounded by water that includes a sandy beach, brick patio & walkway, and firepit.
Boat
We do have 3 pontoon boats for rent between our two island properties on Sage Lake. One is $100 a night, one is $150 a night, & one is $200 a night. Check with management for availability/weekly rates.
Deck / Patio
Lakeside Brick patio area with very nice brand new patio furniture that overlooks the lake, custom built in brick fire pit patio area, and sandy beach.
Kayak / Canoe
We have multiple kayaks, stand up paddle boards, and pontoon style paddle board available for renter use at no cost.
Golf
Green Briar Golf Course is located on Sage Lake Rd and is only a 5 minute drive.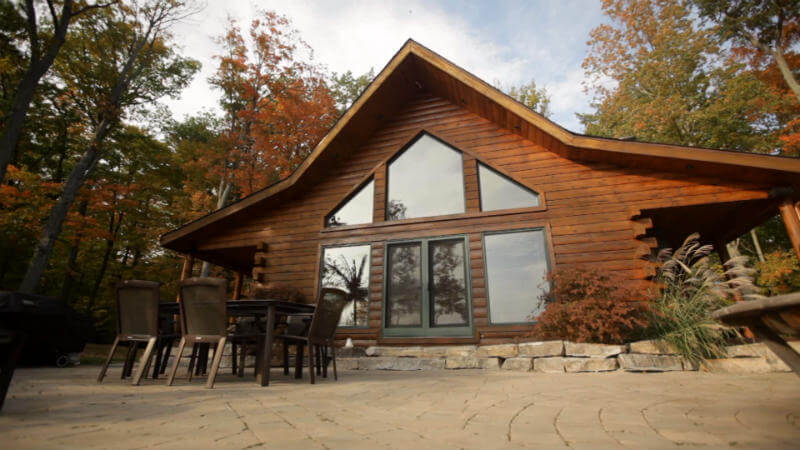 Ask about out our other private island rental
We also own Zeron's Private 7.5 acre Island on Sage Lake that is available for rent. Some guests choose to rent both properties for larger groups. You can find it on ZeronsIsland.com.
House Rules
Max Occupancy: 14
Once booked traveler must sign rental agreement/boat rental agreement within 7 days after booking or management has the right to cancel the booking.
Pets allowed
Most pets are welcome. Extra deposit required
No parties/events
Checkin & Checkout
Check-in: 4:00 PM
Check-out: 12:00 PM
We do not allow check in or check out days to be on a Saturday (Any other day of the week is fine, just not on Saturdays)
Cancellation Policy
Canceled bookings will not receive a refund
Have a Question?
Talk to the Host
Information
Location & Nearby Attractions
Island Cove is located in Hale MI on Sage lake, the biggest all sports lake in the county. There is a golf course within a mile from the property. From the beautiful colors in the fall to the wonderful lake views where ever you are on the property this home is the perfect get away with all the amenities. We also use this property for extra lodging for Zeron's Private 8 acre island which is located on Sage lake as well.
Our Rates
Please contact us for availability
SEASON
Memorial Day Weekend

4th of July Week

Labor Day Weekend**
NIGHTLY
Contact Us

Contact Us

Contact Us
WEEKLY
Contact Us

Contact Us

Contact Us
* $550 per night with 1 week minimum, $650 per night with 3 night minimum
** SAVE 20% after Labor Day Weekend
Rates are subject to change at anytime. Any weddings or large groups are possible but would need to be cleared with owner and the rates will be determined by type of group and type.
Fees and Rental Conditions:
Refundable Damage Deposit: $500
Non-Refundable Cleaning Fee $150
Taxes included
Cancellation policy:  Cancelled bookings will not receive a refund.
Great Way To Top Off The Summer
We had an absolutely awesome time at Island Cove over Labor Day weekend! I'm so glad that we were able to find it on VRBO. After reading the description and perusing the photos, we knew it would be perfect for our group, and it didn't disappoint…
Keep Reading
The house was very spacious; even larger than it appeared in the pictures. The boys got one wing upstairs, and the girls got the other. It was also nice to have a good-sized, well-equipped kitchen, whether it was for actually preparing a meal or just putting out some pizza. And of course, the multiple bathrooms were absolutely essential. Everything was perfectly clean and neat and ready for our arrival. And we were all ready to dive right into the fun, as Joe had answered all of our questions ahead of time.
Family members young and old enjoyed being outside doing lots of activities. Sage Lake was good-sized and fun to explore, on the pontoon, the kayaks and paddle boards, and the pedal boat. Everyone also had fun playing catch and corn hole on the lawn, and it was so relaxing to sit around and unwind by the fire pit at night.
There was so much to do at the house that we didn't really go on too many outings. But we did get some yummy pizza at The Cedar Tavern and Grill, tasty homemade bacon at Alward's in Hale for breakfasts, some snacks, and goodies at Cruisins, and BBQ at Main Street Pizza in Hale. Between those restaurants and stores and some grilling we did on the nice patio at the house, we sure ate well! Every single member of our family had a terrific time! I would definitely recommend Island Cove to any large group looking to make some awesome Up North memories in Pure Michigan!
Every single member of our family had a terrific time! I would definitely recommend Island Cove to any large group looking to make some awesome Up North memories in Pure Michigan!
Everything was excellent.
We really appreciated all of the amenities. The lake and the house were beautiful. The whole family, from little kids on up, enjoyed it. The porch and the firepit area had great views of the sunset and the lake. House was clean and nice, beds were comfortable. Managers were helpful and very responsive.
The property was beautiful and so well maintained!
An oasis on what is basically your own island. The house and island property were…
Keep Reading
gorgeous!  Joe was very helpful and the house fit 13 large people very comfortably! Barbecuing on the well-maintained patio while watching the sunset really set this place apart from other's I've stayed at. Plenty of space for yard games and a private beach to boot! Nothing more you could ask for, but maybe a golf course close by….oh wait they have that too! We will definitely be back. Thanks again!
AWESOME VACATION
We spent the week, our entire family, in the house. There were 10 adults, one 3-year-old, one infant and one dog. We were celebrating my mom's 80th birthday. We had plenty of room, ample sleeping, and bathrooms…
Keep Reading
The house was very clean, neat and tidy with towels, linens and garbage bags/cans provided. Parking is a bit restrictive but manageable. Also provided are kayaks, a paddle boat, pontoon boat(s) and other water toys. The privacy is a perk as the peninsula setting provides a quiet and serene campfire oasis with the beach literally a stone's throw away. Outdoor seating is also plentiful. We bbq'ed, fished, swam, boated, kayaked, lounged, "smored" and relaxed, just to hit on a few of the highlights. The landlords (Joe and Chad) were both very helpful and communicative prior to and at the onset of our stay. We would highly recommend this rental and hope we can go back again on an annual basis.
Awesome vacation spot!
My family and I had an amazing stay at island cove!! There were 13 of us from ages 6 to 60 and never a dull moment!! Plenty of space and things to do!!! The water toys were an added bonus to the sandy beach area!! From fishing to bonfires this house has it all!! We enjoyed the lake and all the house had to offer!! I would highly recommend this place for a family retreat or a get together with friends!!
Come for the views, stay for the fun.
We Have Vacancy!
Submit booking request below and Joe will call to complete the booking.
Contact Us Directly
Send us a message with your desired room type, arrival date and the number of nights you'd like to reserve, and we'll contact you in no time.
Please note that this is not an actual reservation, but only a request for one. We will contact you for a confirmation shortly after. Thank you!